Renting Gear with Kit Lender
If you don't have the gear you want, or prefer not to fly with your camping gear, you can rent from Kit Lender https://www.kitlender.com/ and book your gear to arrive at the base at Spruce Knob by the Thursday before your Sunday arrival. Please use the GPS address given above.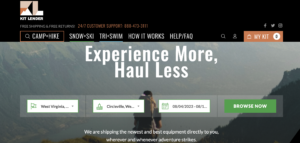 Our Home Base for Programs is Spruce Knob, WV, USA
Hero's Journey® Programs happen in the beautiful mountains of Spruce Knob, WV.  Our base is located at the facilities of Spruce Knob Mountain Center (SKMC), home of our partners at "Experience Learning"organization.
GPS Address:  18 Woodlands Way, Circleville, WV, USA
About Our Unique Base Camp Location
We gather on an open mountaintop located in the heart of the Monongahela National Forest, near  Spruce Knob Mountain.  At 4800 feet, it is the highest mountain peak in West Virginia.  Our large gathering and dining spaces consist of round Mongolian-style yurts designed by the renowned yurt builder William Coperthwaite.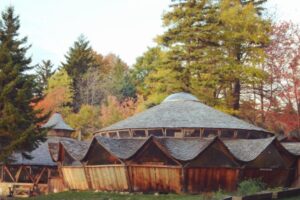 We sleep in tents under the darkest skies in the Eastern US, giving us a profoundly inspiring night sky to reflect upon each evening. The distinct combination of bucolic mountain meadows, breathtaking vistas, and deep wilderness forests provide an awe-inspiring mirror for the inner journey to discover the wild territories of our own human hearts.
Much of our inner work happens within the varied living landscapes of this dynamic, mountainous ecosystem, which features impressive rock crags, expansive wildflower meadows, secluded and extensive underworld cave systems, and the quiet solitude of verdant spruce forests. Indoor gatherings are held in our large and beautifully handcrafted wooden yurts.
Each of our meals is thoughtfully prepared by our own stewarding groups and accommodates most dietary needs and restrictions. It is our intention that you be nourished and sustained physically, emotionally, psychologically, and soulfully.
Due to the rustic and isolated nature setting, cell phone service is not available and external distractions are kept to a bare minimum.