Thinking About Enrolling For Our Summer Wilderness Intensive?
Prepare yourself for what it takes to experience real and meaningful change.
Take a leap of faith.
What To Know About Our Transformative Learning Experiences
We Strive To Grow As Human Beings

Into More Complexity
Into A Greater Appreciation For Paradox
And Into A Greater Ability To Yield & Give Way
Our Work Is Done In Service & Support of Meaningful, Authentic, & Vital Living.
HERE'S WHAT MAKES OUR JOURNEY INTENSIVES TRANSFORMATIVE
1. WE FULLY ENTER INTO LIVING THE MYTH OF THE HERO'S JOURNEY
Our staff is highly trained in this very particular type of transformational process.  It is based on the myth of the Hero's Journey®, as articulated through the work of Joseph Campbell.   We fully enact, in a very literal and real way, the three essential phases of this journey – SEPARATION – INITIATION – RETURN – over the course of seven days.
People begin their journey with the work of taking leave of everything that is familiar, routine and known.  They enter into the adventures and ordeals of doing what it takes to arrive at our secluded, remote location in West Virginia.   People typically travel from across the United States, Canada, South America & Europe to attend our Journeys, so the travel aspect is an important part of the experience.
Upon arrival, participants leave behind all sense of time, and live as fully as possible into the immediacy of each moment.  They begin the process of shedding what they know, in order to make room for what will come next on the adventure.  Joseph Campbell often said, "We must be willing to get rid of the life that we've planned, so as to have the life that is waiting for us."
Over the course of one week's time, we enter into unforeseen experiences and unfolding synchronistic encounters, supported by the nature elements provided within the majestic setting we are immersed in.  Our Journey Intensives engage the depth and authenticity of deeply impactful experiences that happen organically over the course of time, in a way that leaves an indelible mark on each person who gives themselves over fully to the Hero's Journey myth.
HERE'S WHAT MAKES OUR JOURNEY INTENSIVES VITAL
2.  WE ARE UNIQUELY SITUATED WITHIN A VAST, MAJESTIC AND REMOTE NATURE SETTING

Nature, and the remoteness of wilderness, is an important experiential teacher, mirror and container for supporting an individual's ability to enter more fully into their own depths, and find meaning and vitality there.  A majestic setting – remote, vast and private – allows for a sense of wonder, and a deepening intimacy with oneself and the land.  
We have wide open plains, wooded, moss-covered mountain forests and streams, backwoods caves, mountain peaks, sheer cliffs, and fields of wildflowers and berries.  We have ever-changing weather and temperature patterns that reflect the ever-changing moods of our human experiences.  We have vistas the provide inspiration and deep reflection, and hiking trails that allow us to make our way into unknown & unexplored territory.
We are also quite fortunate to be able to provide open outdoor fires, a rarity in today's climate-changing conditions.  We have three separate areas that support our ability to create beautiful and ceremonial fires – in the woods, in our meadow, and on our high mountain plain.
HERE'S WHAT MAKES OUR JOURNEY INTENSIVES SO ENLIVENING & JOYFUL
3.  WE HAVE A COMMUNITY OF PEOPLE WHO ARE PLAYFUL & WISE, HUMBLE & REAL.  
THEY CREATE AN ATMOSPHERE THAT IS LIGHTHEARTED AND CAN GO DEEP. 

The stewarding team provides all the ambiance that makes the journey come alive with warmth, companionship, and care.  They provide us with all the nourishing and nutritious meals we need.  They provide logistical, physical, and emotional support for all the experiences that take place on a journey.  They are supportive, engaging, and useful with all of our participants. And they are all participating in their own individual journeys at the same time, as well.
We are quite literally 'all in it together'.  We share in one another's sorrows and joys of living, as we all strive to be in the world as it is.  We learn to change ourselves, and we don't try to fix others or the world.  When we let go of trying to be helpers, we can more genuinely accompany others through their adventures and ordeals.  
This kind of accompanying allows us to become allies with one another.  We serve one another as 'active witnesses' who can listen and see without needing to fix, which in turn, allows others to see themselves and the world around them with new eyes, and a capable, willing heart.
HERE'S WHAT MAKES OUR JOURNEY INTENSIVES PROFOUND
4.  OUR SKILLFULLY FACILITATED ALLY GROUPS ARE TRANSFORMATIONAL TOOLS

It's been said that 'a rising tide lifts every boat'.  Each man who enters the transformative vessel of the ally group experience becomes an essential contributor to the journey of every other person.  Each person's presence becomes an important part of the group, and yet each person also stands apart from the group at times, becoming a distinctly individual and unique presence.  We go back and forth between these two learning positions while being among such an essential collection of diverse people.
Conversations, honest feedback, deep exchanges, being side-by-side, going through experiences together – all of this happens by focusing on what can be spoken and seen in a group like this, things unlikely to be heard of spoken, or witnessed anywhere else in your life.  
Bonds are forged, old and self-destructive patterns are addressed and shed, new possibilities come forward to be considered that are life-giving, new opportunities are provided and new risks are taken, learning happens – and a new orientation to one's own future begins its germination.
If you do follow your bliss, you put yourself on a kind of track
that has been there all the while waiting for you,
and the life you ought to be living is the one you are living.

When you can see that, you begin to meet people
who are in the field of your bliss, and they open the doors to you.

I say, follow your bliss and don't be afraid, and doors will open
 where you didn't know they were going to be.
If you follow your bliss, doors will open for you that wouldn't
have opened for anyone else.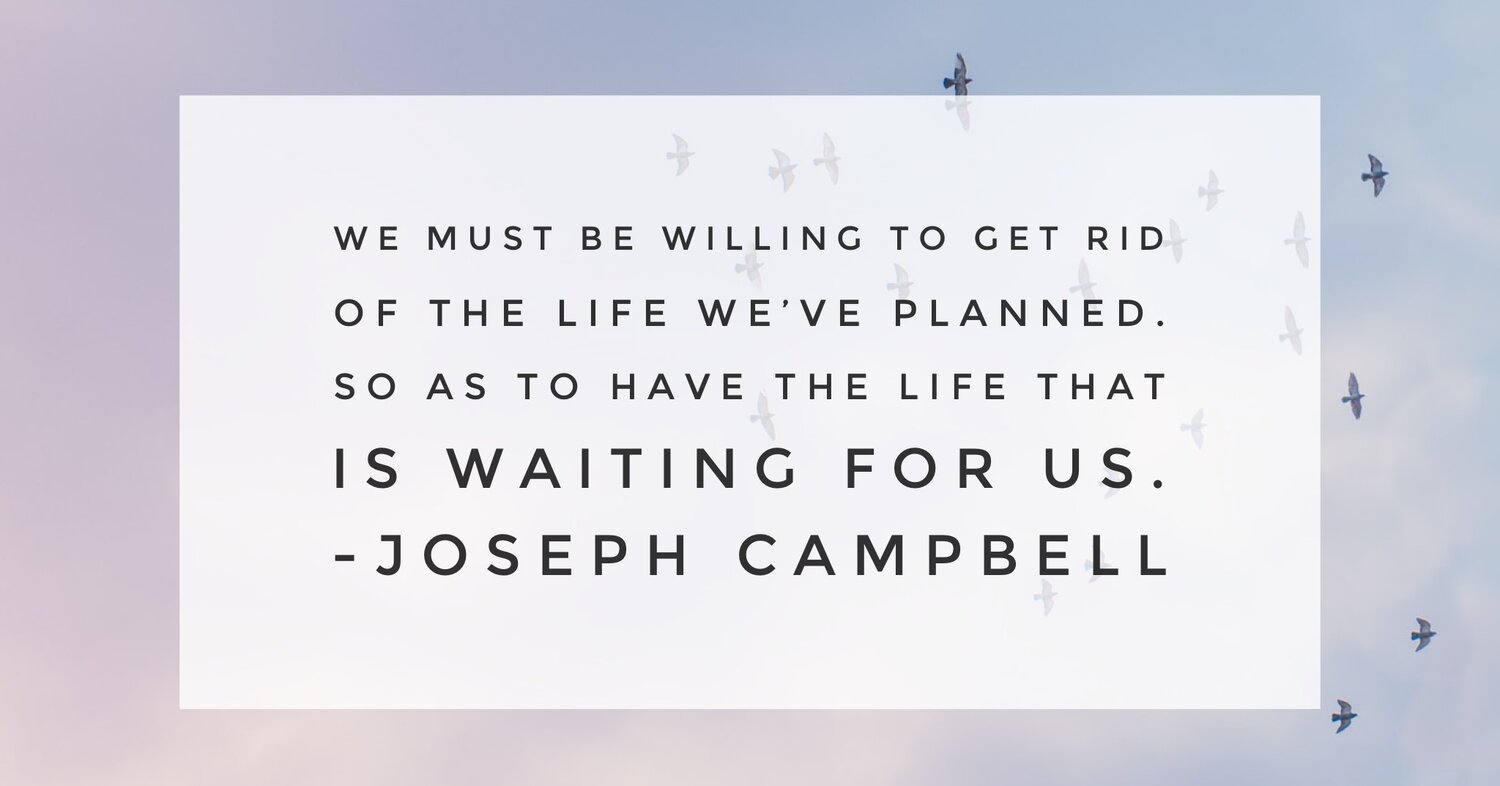 The high plains vista from our base camp site in West Virginia
The real reason to go on a journey of transformation is to become someone other than who you already are.
Images are from our program experiences at our mountaintop base camp near to Spruce Knob, WV