Young Women's Journey Details
12:00 pm ET Sunday August 6th - 12:00 pm ET Saturday August 12th
What to Expect For Your Young Women's Journey
What to expect on your weeklong wilderness journey… 
We spend a lot of time outdoors.  We explore together interior spaces while being in exquisite nature settings. We have adventures in spruce forests, lofty mountain ranges, underworld caves, and wide-open meadows in one of the most scenic and wild areas of the Appalachian Mountains.

We also spend time sitting in council circles with one another…we take the opportunity to practice deep listening as well as speaking from the heart.
We discover what it means to be in relationship with each of the four elements of the natural world: earth, water, fire, and air. We do this by building and lighting fires for our experiences, by visiting mountain streams, climbing on rock formations, and going under the earth in natural cave formations.
During our evenings, we will share in "council circles," supported by beautiful evening fires, which reflect back to you the fire within your own heart. We sleep close to the earth by staying in tents, with bathrooms and showers available nearby.
Three delicious, gourmet-style meals will be prepared daily for you by our own staff to nourish your body, as you learn to nourish your soul.
This year, the Hero's Journey ® for Young Women is facilitated by Cindy Petrakis-Mason and Nancy Lishack, in collaboration with the collective Hero's Journey ® Facilitation and Stewarding Staff.
Be ready for:
*Meaningful adventures and exchanges
*Small and large group councils
*Creative projects:
prayer sticks, altars, medicine wheel and more
*Shared experiences through ceremony
*Moving through limiting beliefs and fears
*Surprises
What can you gain from this experience?
*A sense of adventure, challenge and belonging
*Support for the changes and transitions you are experiencing
*Getting to know yourself better and your place in the world
*Learn ways of being with fears and doubts that can hold you back
*Gain insights into the question: "Who am I becoming?"
*Opening to new possibilities, to new ways of being
*Explore what matters most to you in your life
*Recognition of your inner wisdom and gifts
*Trusted friends and allies
Engage the unknown and make room for the unexpected!
About Our Unique Base Camp Location
We gather on an open mountaintop located in the heart of the Monongahela National Forest, near  Spruce Knob Mountain.  At 4800 feet, it is the highest mountain peak in West Virginia.  Our large gathering and dining spaces consist of round yurts designed by the renowned yurt builder William Coperthwaite.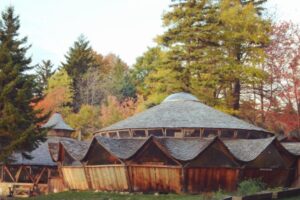 We sleep in tents under the darkest skies in the Eastern US, giving us a profoundly inspiring night sky to reflect upon each evening. The distinct combination of bucolic mountain meadows, breathtaking vistas, and deep wilderness forests provide an awe-inspiring mirror for the inner journey to discover the wild territories of our own human hearts.
Much of our inner work happens within the varied living landscapes of this dynamic, mountainous ecosystem, which features impressive rock crags, expansive wildflower meadows, secluded and extensive underworld cave systems, and the quiet solitude of verdant spruce forests. Indoor gatherings are held in our large and beautifully handcrafted wooden yurts.
Each of our meals is thoughtfully prepared by our own stewarding groups and accommodates most dietary needs and restrictions. It is our intention that you be nourished and sustained physically, emotionally, psychologically, and soulfully.
Due to the rustic and isolated nature setting, cell phone service is not available and external distractions are kept to a bare minimum.
An exceptional team of guides and a large contingent of experienced support staff help to clarify and energize your hero's journey in a way that will serve your unique passage through this phase of your life and is likewise directed to enliven the whole of life.  Each one of us lives our Hero's Journey®  – first, for our own healing and wholeness, so that we may offer our most vital and capable self to be of service to the life of this world.
Upon Your Enrollment
You will be directed to a detailed preparation section to help you get ready for your Hero's Journey® Intensive.  This will include guidance to help you begin your journey while still at home.  You will be asked to respond to self-reflective questions and meditations, and we will suggest some reading to prepare you as well.
We will want a few brief, thoughtfully written reflections on Six Preparation Questions that you will submit to us before your arrival on the mountain, along with necessary paperwork and release forms.
All physical and logistical concerns such as recommended clothing and equipment lists and travel information will also be addressed in the preparation section.
"I only wanted to do what made sense to my interior.  I don't see how one can live otherwise…When you wander, think of what you want to do most that day, not what you told yourself you were going to want to do."
A vital person vitalizes the world.
– Joseph Campbell
Back to the Young Women's Journey Page